Welcome to the world of Magicbit
Magicbit is a feature-rich, easy-to-use, and cost-effective platform made for everyone. The inbuilt functionalities of Magicbit provide a unique advantage for users to learn and practice a wide range of application areas such as robotics, programming, Internet of Things(IoT) and electronics.
Magicbit is an innovation ecosystem with hardware, software, mobile app, content, community and partners. Integrated solutions can be developed more easily while exploring cross-platform options such as programming with any other software or connecting to any cloud IoT platform.
A frequently asked question about Magicbit is "How many innovations can I develop with Magicbit?" The answer to that would be "It has no limits". Your creativity and innovative mindset have to decide the number of innovations you can do. After all, the world needs more solutions with technology to resolve some of the burning problems faced by mankind. Making technology accessible and available to everyone is the passion Magicbit team would like to share with everyone.
So, Welcome to the world of Magicbit !!! Let's start your journey of innovation.
Magickey is a ESP32 based development board with on board LED, push button, LDR and RGB neo pixel. It's bread board compatible. Support all software as same as Magicbit Core                                                   .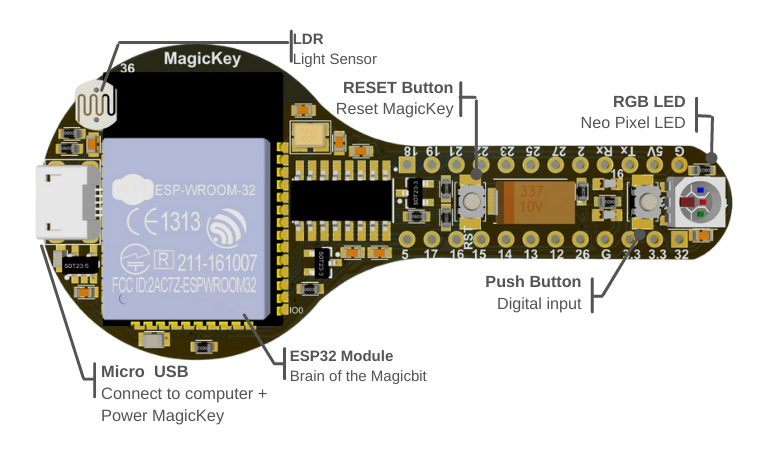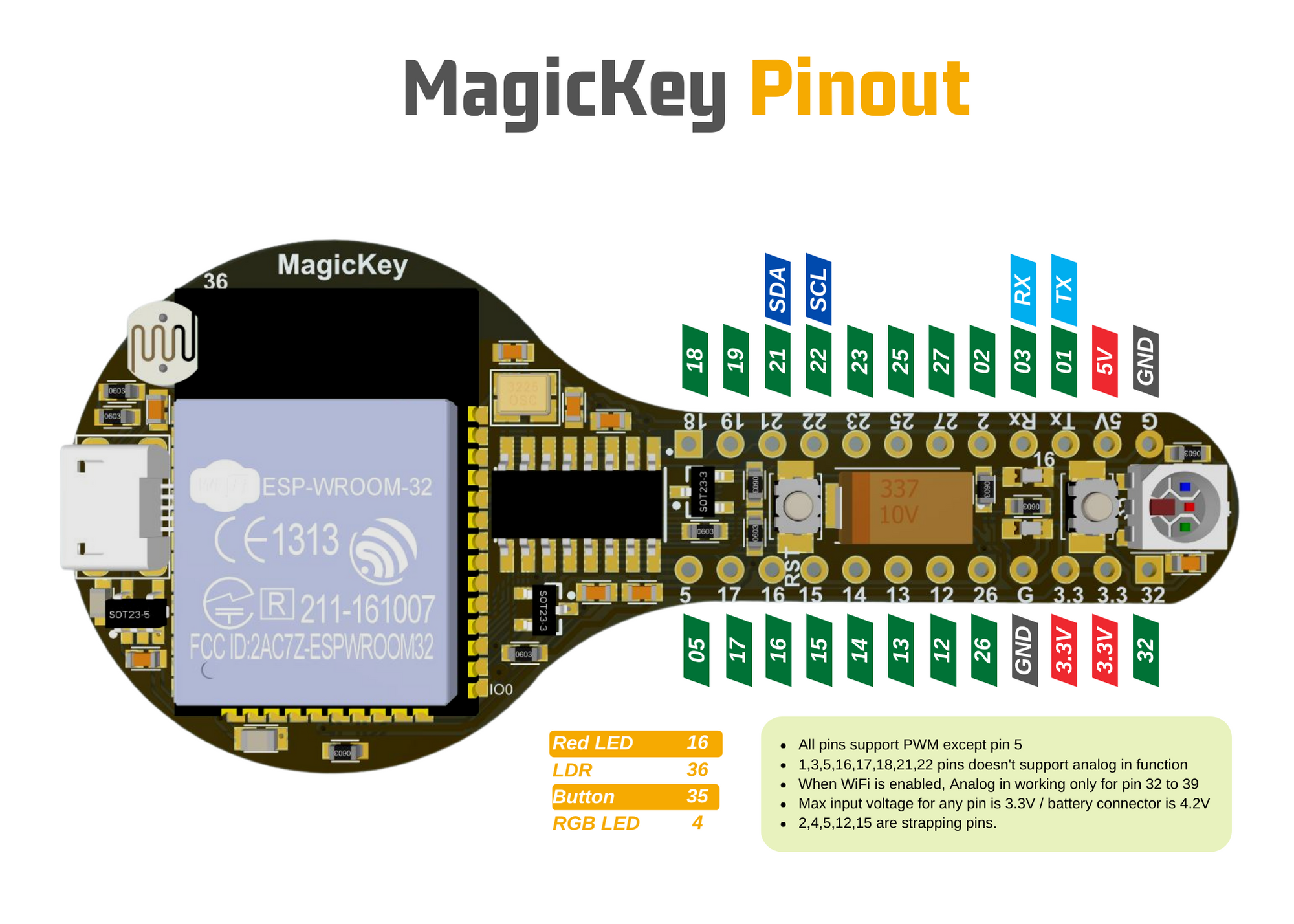 Magic Key
Computer or Laptop
Wifi connection with internet
USB cable
Plug your Magic key into Computer through the USB cable. it will automatically load the Magic os .
If you bought the magickey recently, magicbitOS is installed on your magickey from the factory. if not Install Magic OS manually click here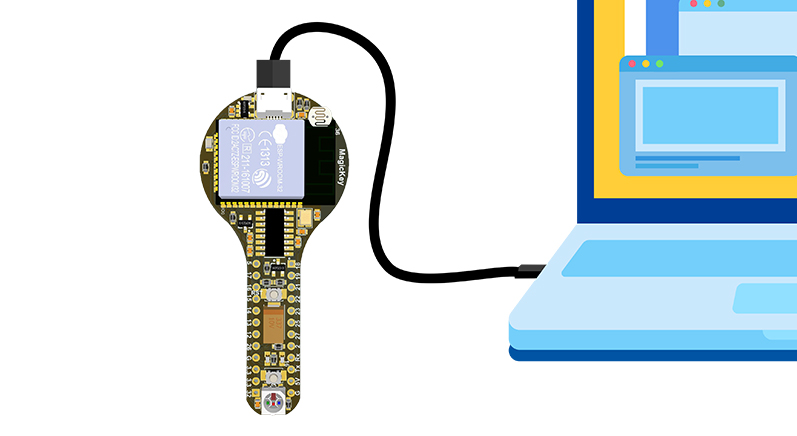 MagicbitOS is an all-in-one operating system that runs on magicbit.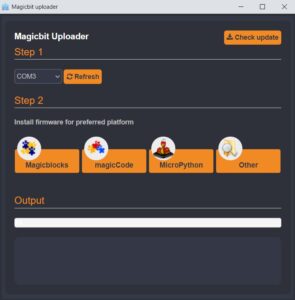 magicbitOS is an all-in-one operating system that runs on magicbit. You can switch between magicblocks , magiccode & test modes without a need for a computer to reprogram the board.
Learn more
Selecting Modes on Magicbit OS
you have 2 options to choose from Magickey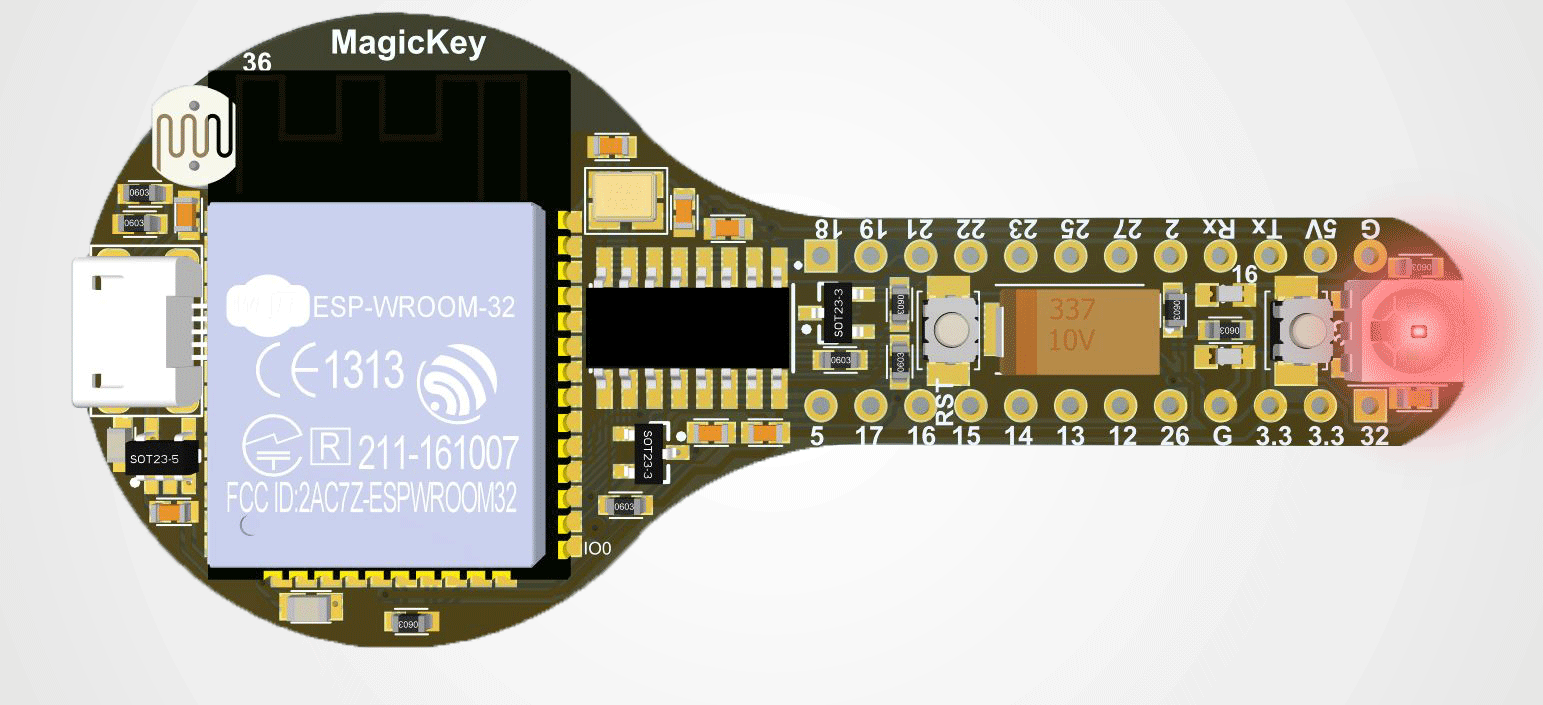 When you power up magicKey, you get 10 seconds to select mode. Else magickey will boot up to the mode you previously selected. Inside the boot menu you have 2 options to choose from. You can change the selection from the push button.
click on the below links to learn about modes.
if you want to select MagicBlock mode press the push button when the green light appears.
magicblocks IoT enables you to build IoT applications with magicblocks.io platform. Find more information from www.magicblocks.io.
.
if you want to select Magiccode mode press the push button when the red light appears.
magicode is the scratch based no-code programming platform from us.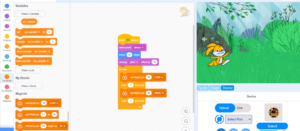 You can learn underlying theories of programming in a graphical manner using this. By enabling this mode, you enable magiccode WiFi version. You can connect the magicbit to the computer and program using magiccode, more info from here .
Magickey is powered by popular ESP32 modules which has thousands of free contents on internet.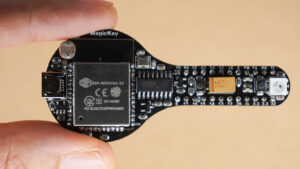 Programming is the way of providing instructions for the computers to work. We can input instructions to computers using programs. Programming languages are used  to create these instructions  and we can write the programs to perform the tasks we need from a computer. There are many popular programming languages are C, C++. C#, Python, Java Script & etc. There are tools such as programming IDEs ( integrated development environment) which provides comprehensive facilities to develop computer programs.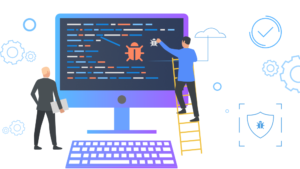 Normally programming languages have text-based interfaces. In order support beginners, there are visual code builders with block based programming. In these programming languages or IDEs, users can simply drag and drop different blocks to create a program. Scratch is popular visual code builder used by millions of users around the world.
Magicbit can be programmed with many text based and block based programming options. MagicCode is the Scratch version developed to support Magicbit environment. Mahgicblocks.io is another block based cloud platform developed to create IoT applications. This platform can be custom programmed using Java Script. Some of the other options available are micropython  and Arduino IDE.
Although Magicbit can be programmed with multiple programming languages, it can be programmed with only one programming option at a given time.
Setup your programing environment
A light-emitting diode (LED) is a semiconductor light source that emits light when current flows through it.

In short, LEDs are like tiny lightbulbs. However, LEDs require a lot less power to light up by comparison. They're also more energy efficient, so they don't tend to get hot as conventional lightbulbs do.
Here is the circuit symbol.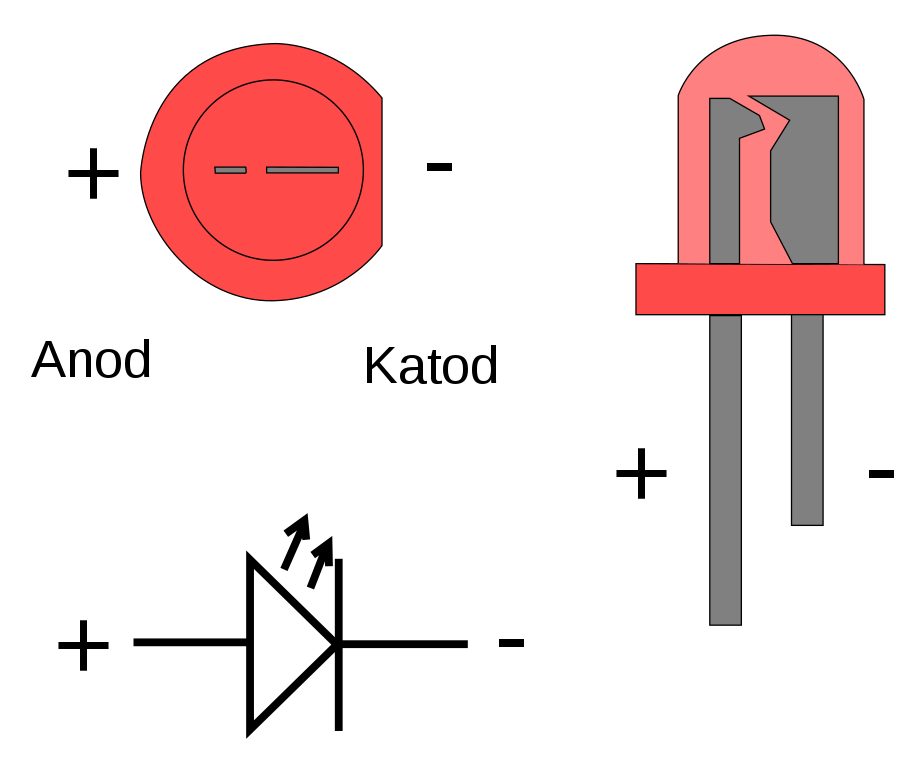 magickey dev Board has 1 LED connected to the pin numbers 16. By setting the output state to a high of the LED pin will turn on the LED and by setting the output state to LOW will turn off the LED.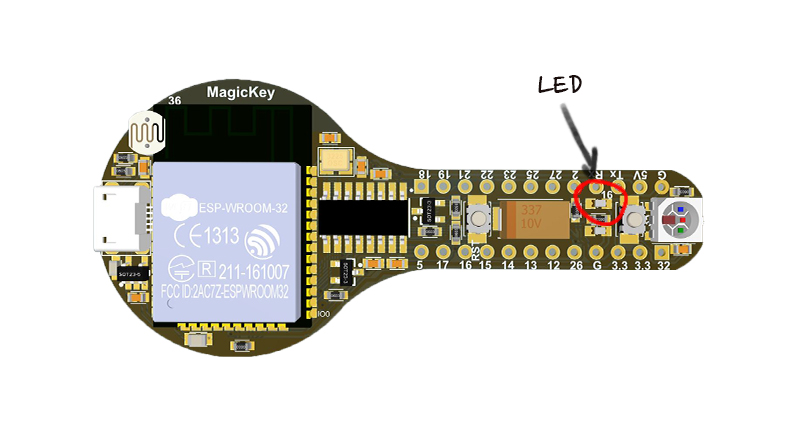 NeoPixel led is a strip of LEDs with RGB combinations. The LED was made by the Adafruit company to avoid the pins issue and complex circuitry. it can be controlled from a single pin on a microcontroller.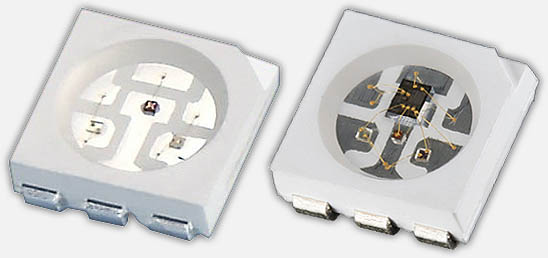 With an RGB LED you can produce almost any color. To produce other colors, you can combine the three colors in different intensities.
Here is the circuit symbol.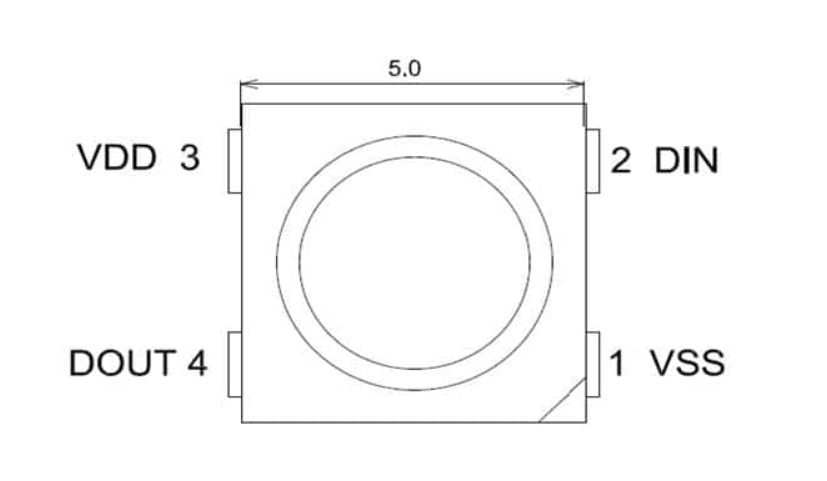 magickey dev Board has RGB LED connected to the pin number 4.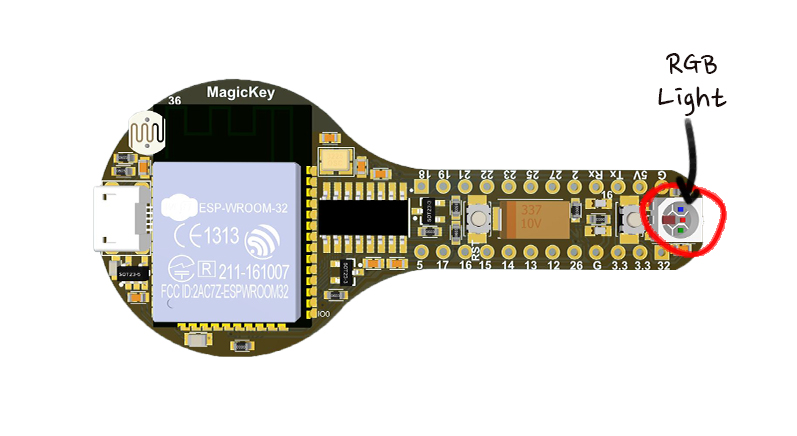 Light-dependent resistors, LDR is an electronic component that is often used in electronic circuit designs where it is necessary to detect the presence or the level of light.
Here is the circuit symbol.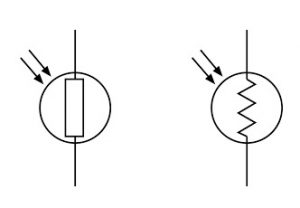 Magickey has an inbuild  LDR connected to pin 36 . it gives an analog voltage input from 0 to 3.3V and it converts to a digital value of 0 to 4095.
A push button switch is a mechanical device used to control an electrical circuit in which the operator manually presses a button to actuate an internal switching mechanism. They come in a variety of shapes, sizes, and configurations, depending on the design requirements.

When the pushbutton is open (unpressed) there is no connection between the two legs of the pushbutton, When the button is closed (pressed), it makes a connection between its two legs.
Here is the circuit symbol.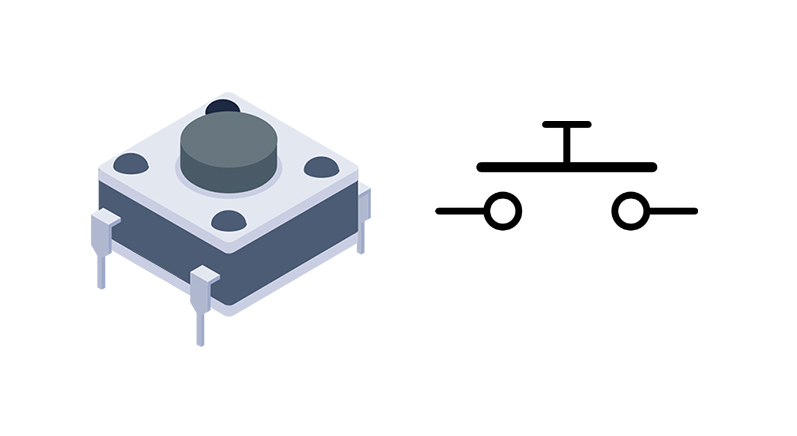 There is 1 Pushbutton on the magickey dev board. it's connected to pin number 35.