STEM Tools
Arduino | Microbit | Magicbit | Raspbery Pi | Adafruit

At a time where the students and kids are getting adopted to online education, the parents need to make sure that they are getting the best knowledge possible without getting addicted to unnecessary activities. Technology has brought many things to us both good and bad, I'm pretty sure as elders you always want your kids to choose the best and to do their best.
So, if you are thinking of something to keep your kids engaged, I suggest trying to make them interested in a field like robotics, electronics, and IoT with these STEM kits for kids. These are all emerging technological areas in STEM education.
Why STEM for Children?
Well, STEM as you may know stands for science, technology, engineering, and math. STEM education is an integrated, interdisciplinary approach that provides hands-on experience for the kids. It also helps them to develop their critical thinking, problem-solving and creative skills. The world needs more problem solvers now more than ever. With early STEM education, children will be able to develop this path step by step.
Children love it when they can experience things and learn. Just learning things and writing them in books won't be useful anymore. So, activities that support STEM learning will keep the children focused, curious, and active. What is more, of course, STEM education later helps them for their career path too.
Electronics, IoT, and Robotics are the new trends in the world. Unlike in our times, children are born with technology these days. Introduction to electronics, robotics, and a little bit of basic programming will always help and keep them engaged, especially while we are struggling to keep them home. So, here I'm sharing some of the best STEM Development Boards that you should consider trying out this year 2022. These development boards are nothing but microcontrollers — rather mini computers, which we can program and use for many applications. Have a look at these STEM kits for kids!
Arduino Development Boards
Here's the most popular and the common one. Arduino is an open-source electronics platform based on easy-to-use hardware and software. Anyone who wishes to make interactive projects might find this development board useful. They have a wide range of development boards, shields, modules, and kits available. They also consist of their own IDE that you can use for programming. It is a simple yet clear programming environment. You just have to write the code using the software and upload it to the board and you can do almost anything. It doesn't matter whether you are a beginner or an expert, Arduino boards will be the right option for you. Even during our university projects, most of the time we preferred Arduino since it is easy to use and learn as well as available according to our requirements. From blinking a LED to more advanced robotics and IoT applications you can learn to develop anything using Arduino development boards. The large community and the many documentations and resources out there are also very useful and can help you whenever you are having trouble.
You can check their official website here and see the new boards and the features.
Microbit 
The micro: bit is a handheld, fully programmable computer that was rolled out across the UK in 2016. Micro: bit started its journey with the vision to inspire every child to create their best digital future. This small board can introduce your kids to how software and hardware work together. The board comes with a LED light display, buttons, inbuilt sensors, and many input/output features. So, once programmed, the kids can see how it works. The new board even has a built-in microphone and speaker, as well as an extra touch input button and a power button; meaning many things can be tried now with them.
Another thing is that the board can be programmed with scratch — which is a visual programming language loved by all over the globe. There are languages like python and other editors too. But my recommendation is to start with scratch for the kids. Since it is visual programming, children will be getting familiar with basic programming concepts easily without getting bored. Kids can create a scratch project and integrate micro: bit into it, and the board becomes a physical game controller, paintbrush, digital scoreboard, or more.
There are many other things kids can try out so do not forget to check their website at microbit.org
Raspberry Pi Development Board
Raspberry Pi is a series of small single-board computers developed in the United Kingdom by the Raspberry Pi Foundation. The original aim of developing the project was to promote teaching basic computer science and schools and developing countries.
The board is a low-cost and open design. Hence the board gained lots of popularity when first released to the market. Do you know that in 2018, when NASA launched the JPL Open-Source Rover Project, they used a Raspberry Pi as the control module, intending to encourage students and hobbyists to get involved in mechanical, software, electronics, and robotics engineering? The board can be used for applications such as robotics, weather monitoring, learning programming, and building gaming systems. Children love working with computers, how about building a computer of their own? It is now possible with Raspberry Pi and if your kid is under the age of 12, consider guiding them and building together with them.
Check out their website here to know more things about the boards and the amazing kits.
Adafruit Development Board
Adafruit also has a range of development boards however, their Circuit Playground Express is the next step towards a perfect introduction to electronics and programming. It is the improved version of the Circuit Playground Classic with more sensors and easier to program. The board is equipped with a wide range of sensors including motion sensors, temperature sensors, light sensors, sound sensors, and many other options. With this development board, you can start coding with Microsoft MakeCode block-based or Javascript programming. It is compatible with CircuitPython as well as Arduino IDE too. Once the students are ready they can try these advanced programming languages. Hence this board is so powerful and has great value.
It will always be fascinating for the kids to use these kinds of development boards. Imagine writing their own code and trying things themselves might bring so much joy to them. So, it is high time that you guide your kids to do small projects, robotics, and programming with one of these best development boards.
Magicbit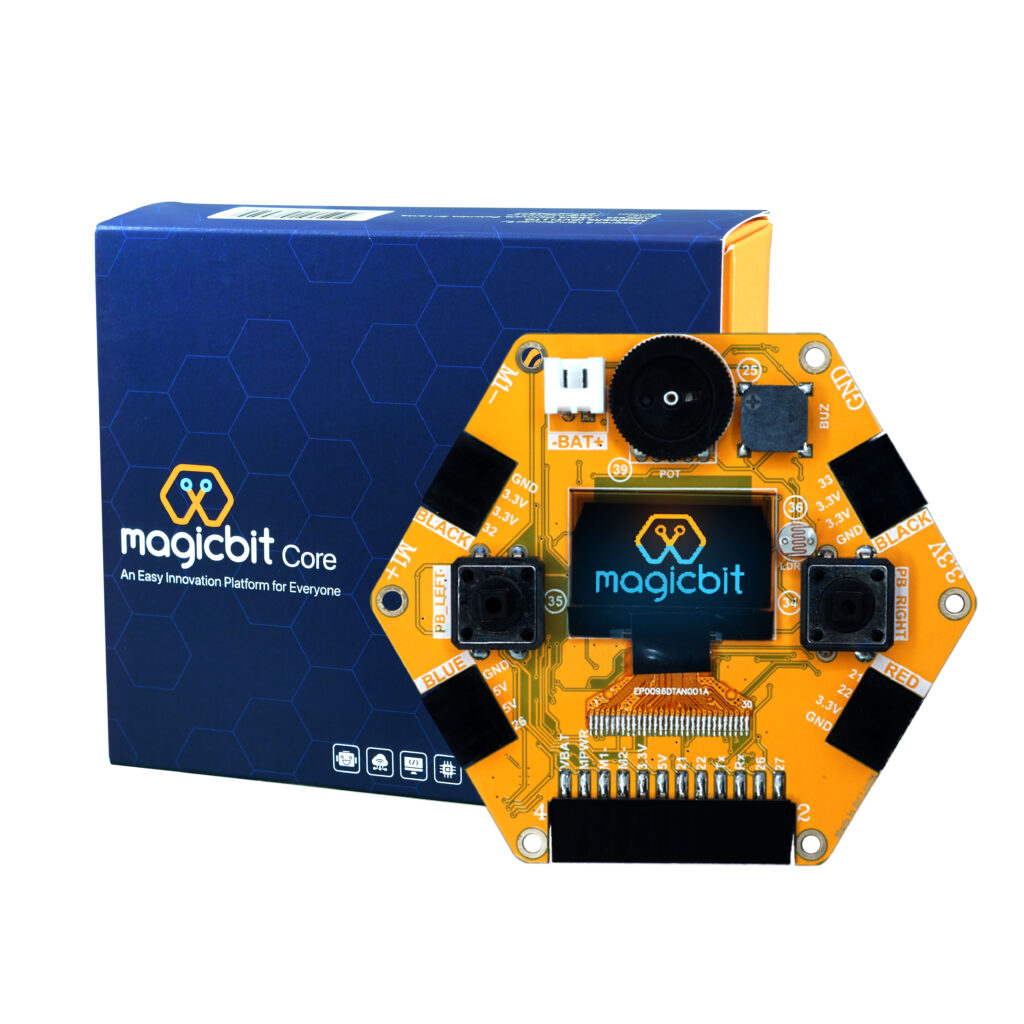 Here's a Magic Board! The product Magicbit comes with the tag of an easy IoT platform for everyone, suggesting this will be more useful for IoT projects. But not only for IoT, but the board might also be the best for robotics too. The reason for me to say so is the wide range of features that are available with the board. And I think the shape of the board is even cool too. The board has inbuilt sensors as well as a wide range of other sensors you can plug and play. The board comes with WiFi, Bluetooth so, unlike Arduino, you do not need any additional modules for communication. That's why even they say this is an easy IoT platform. This one is also totally kids friendly!
The team has developed Magicbit to support Scratch 3.0 with their version of scratch called 'MagicCode'. So, with this, children can learn easily how to program and do simple yet cool things with this development board. They also have their own platform called 'Magicblocks.io' for visual programming and a mobile application to control everything using mobile phones. Magicbit also supports popular frameworks such as Arduino, Python, Node.js, C#, and Platform.io. And also, it supports almost all popular cloud platforms. Hence this one is the best tool to practice and learn IoT cloud platforms.
The features of the board you can of course check their website at magicbit.cc. Magicbit is funded with Kickstater and accredited by STEM.org.
Dhanushi K. Wijewardana
Associate Engineer at Blue Lotus 360